Ped & Eggy's Times
Year 1996 Volume 3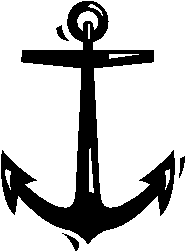 Newlyweds Survive - The Honeymoon Continues!
Our Life - Peggy's Inside Stories
Our Life - Ed's Inside Stories
---
| | |
| --- | --- |
| With all the trips to Catalina, Scuba Due needed a companion. 'Due Little' came along, a 3hp inflatable. Ed and Peggy use her to go back and forth from shore, and take her out to the local harbors on afternoon champagne cruises. Sure saves on gas! | Ed and Peg relaxing at Catalina's backside... |
---
Newlyweds Survive - The Honeymoon Continues!
The first full year of wedding bliss continues for the couple and went off without a hitch. This was no surprise to the couple as they knew that they were going to get along just great.
The couple spent most of the year getting the house to have that lived in by Peggy look (you know, the female nesting instinct)! Peggy undertook redecorating much of the house and setting up the awesome garden.
When they decided to take some time off, Ed and Peggy took their vacation on Scuba Due. (Well, you can't go to New Zealand every time!) at Catalina Island. They lived on board for 10 days around the July 4th holiday. After the trip, the couple decided that they can very easily live in tight quarters for extended periods - which is very good news for the couple's long term sailing voyage plans.
| | |
| --- | --- |
| | Ed and Peggy Climbing the walls to get a view of the Olympic Torch that passed through Huntington Beach (at 4 am no less!) |
One other hugely fun activity was Ed's 40th (can you believe it)? birthday. Cleverly planned by Peggy, Ed was astonished by the number of people who ventured over to Catalina to celebrate and party.
Due to the enormous effort put out by the couple to get their business started (see related stories), there wasn't much other 'fun stuff' to report.
"That's going to change" stated Ed. The couple plans to allocate more time to the boating scene this summer. They've gotten a laptop now, so maybe business and pleasure can be combined!
---
Our Life - Peggy's Inside Stories
Married Life continues to be the best thing that every happened to me! Ed and I are a good match. We work very hard on our life together and are continuing to set goals and attain them.
As for our addition to the house or possibly family, we had an architect draw plans for us. The addition we wanted was primarily moving walls around on the inside and adding a 100sq. ft. foyer. It would have been real nice! We would have gained a foyer entrance, formal dinning area and three functional bedrooms! BUT……once the contractors got a hold of our plans the cost was going to be 25, 000 dollars. Let's just say that was excessive for us. We now are going back to the drawing board. I've got some good ideas and will start the beginning of the year.
As for our family addition plans, we have been working hard for a baby but no luck so far. Hope next year brings good news!
My garden is taking form here at the house. Still needs a lot of work. I have a neighbor friend Allison who is from England her garden is a big inspiration. She is teaching me a lot. I just recently put a 35ft Arizona flag stone walk way in the back. It looks great. The walk will be the border of a nice flower garden soon to be planted.
Easter we had a fabulous brunch at the house. Ed and I were please so many of our relatives could attend which made it a special occasion. Ed has been seeing more of his extended family and loving it. We have always wanted a large family. It is so nice to get together with everyone. We hope to have another big get together on Thanksgiving with both sides of the family next year. Hope you all can attend!
Work for me has been difficult this year. I changed jobs and now work at Hoag Hospital. I left UCI after nine years of service. I now know UCI was my second home. It is difficult to leave a place after so long. Ed and I both miss the benefits I left behind at UCI. Hoag Hospital is a great hospital. I'm glad to be working so close to home and at a Hospital with such a great reputation. Ed and I now have time to work on our business, Art Colony. Starting a business is truly difficult. Ed and I often work 60-80 hrs a week with all jobs included. We are looking forward for things to change somehow in the New Year!
My family is doing fine. This year for Christmas dad took on a wood working project making large candy canes for outside decorations. The candy canes outline my garden. They will be a Christmas decoration tradition for years to come. Vicki is still working hard at school and is now completing her clinical work at St. Joseph's Hospital in Orange. She enjoys learning about the body dynamics through ultra sound.
---
Our Life - Ed's Inside Stories
Well, this year was a really busy one. With Peg changing jobs, us trying to get our business started, yikes, what a great year! Life with Peg continues to be "berry berry goot to me".
| | |
| --- | --- |
| Of course, the diving story was a good one, though short. We were able to score a couple of very nice lobsters in October over at Catalina. The underwater fishing improved a little over last year, with Peg getting better at her diving skills. | Peggy and Ed got these bugs (lobsters) at Catalina. YUMMY! |
The topside fishing scene was very slow, due to lack of effort. There were some barracuda off La Jolla, and some bass and other fish.
We did a halibut tournament, and caught some short halibut, but no keepers. Uncle Oscar, one of the participants, spent most of the trip feeding the fish, but he said that he had a good time anyway! We did have a lot of fun, and the weather was great for that.
---
The dental products are still doing OK. The dealer troubles of last year have cleared up, and the new dealer has picked up most of the slack. They expect to increase sales greatly next year, and I hope they do.
We introduced a new product last year for digital photography and storage of the patient's x-rays and pictures. It's been doing pretty well, though the margins aren't as good.
We're looking into another new product in 1997, and I'll keep you posted.
On the business Peg and got going: Well, so far it's a good write off. We gave a Herculean effort into getting a web site called Art Colony off the ground. The site came up in June. We spend lots of time trying to recruit artists, but found them to be a fickle lot. We seemed to find a better crowd with arts and crafts people, but most people still don't understand the Internet and its potential. That's OK, we're a bit ahead of the game, and will stick it out. Our site,
www.artcolony.com
attracted 2500 visitors during the half year it's been up, but nobody is buying the art and arts and crafts we have there. I think as we get more stuff on the site and as people get on the web, that will change.
We also tried a site selling cigars (www.webworldinc.com/cigarfactory) but the cigars are not a known brand, so they haven't been selling as well as they should. Perhaps when 'micro' cigar rollers catch on (like micro breweries did), then things will pick up. (PS If you like cigars, try some, they're pretty good!)
I also did a volunteer site for United Anglers, a non-profit fishing conservation organization. That site (www.UnitedAnglers-SC.com) is fun to maintain, and perhaps something will come of that one too.
With all this work, our personal site has moved, and has not received much attention. Look for improvements next year.
One other thing of interest was the number of 'chmiels' who emailed me last year because of our family web site. None were related, however, but it was pretty darn cool to get some of that mail. I did register the site on the Internet search engines, so you can type in 'chmiel' in Yahoo and get to our page (and other chmiel's too)!.
---
If you get some time, please jot down any family history that you might remember.
(or e-mail me at chmiel@webworldinc.com)
I'm going to eventually try to construct a family tree and so forth. Send anything along those lines. I regret not picking my Mom's brain and writing this stuff down.
I'm going to put this info into a web site for all to see.
---
None to report - Thank God!